Propagation couldn't be easier! Using beaker tongs or a piece of folded newspaper, just cut off a pad. (You can swap pads with a friend)! Let the wound dry for about a week, then plant the pad in a shallow depression cut side down. Water every 2 weeks to get the roots started. Minimal water is needed. Once every 2 to 3 weeks in the summer is sufficient for new plants. When established they can generally survive on rainfall alone. As with any herbaceous plant, however, shriveling or wilting means they need to be watered.
I am now offering cactus plants. Shipping/handling charges apply.
The genus Opuntia is the largest and most widespread of the family Cactaceae, subfamily Opuntiodeae. It contains 181 species plus 10 naturally occurring hybrids, and is found from Canada to southern South America.
The plants are the large outdoor variety, and are excellent for landscaping. They bloom in the spring with large yellow flowers. When the blooms die they form large purple pods that are quite attractive as well!
These cacti can survive freezing and grow 12 inches and more each year, forming new leaves and growing to 4 and 5 feet in height. Planting instructions included.
The juice can be used to make...(read more)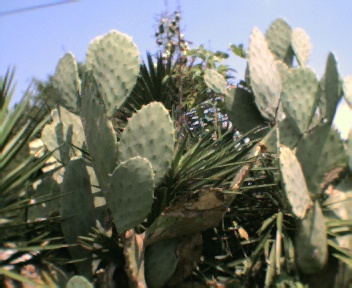 1 large,prickly pear seed plant

$11
The flat-jointed paddles of the prickly pear are not leaves, but an adaptation of a stem from which the fruit grows. The cactus paddles, "Nopales," are also a commonly used ingredient in Mexican recipes, including salads and scrambled eggs.
The prickly pear fruit normally ripens and is ready for harvest during the late summer and early fall months. When gathering the fruit, wear leather or rubber gloves to avoid contact with the cactus needles. They are a nuisance, especially the tiny soft-appearing barbs of glochids on the fruit itself. The glochids are very difficult to remove if you get them in your skin. A long-handled tong can also be used to pick the fruit from the cactus.
Giant sized leaves: 15+ inches long-$15. From mature plants they have been growing longer.
Customer comments
Hey randall, no green thumb here, all i did was stuck them in the ground and gave them water. a lady at a nursery told me to water newly planted yucca every other day for 2 weeks and thats all they need. the small yucca is the only one that took off immediately. i was beginning to wonder about the
rest then they all came to life within the past month and started growing good.
hey randall, my yucca and cactus are growing like crazy!
well the big yucca is slowly catching up and starting new growth but the small one just took off and started sprouting within a few weeks. its doubled in size or more like tripled.
1 cactus stayed in tact and has 4 new big segments and starting a few more.
the other cactus broke in 3 or 4 peices and i planted them seperatley, now they all have new sprouts. 1 has 3 new sprouts. ill have pics soon as i finish landscaping around them.