have an aloe plant that has rewarded me with blooms this year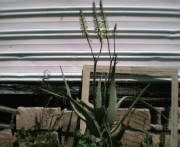 Since I have been growing aloes, I have not had any blooms. Until now! My 'big mama' plant has produced 2 blooms for me, this year.
I'll take more photos as the blooms form, to show how they progress. Stay tuned. Next month I'll have a series of pictures. The following month, I'll have more information on the phases of an aloe bloom: From formation, to production of seeds, and harvesting.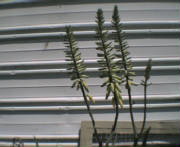 Quantities of aloes are now available: