I am now offering yucca plants. These are good landscaping plants. They can survive freezing and grow 6 or more inches a year. They bloom with 12 inch stalks of bright yellow flowers.
Adams Needle (Yucca) - Very distinct evergreen plants of fine form and of the highest value where effect is sought. They are hardy for the most part, and all of the kinds mentioned are vigorous and well suited for the flower garden. Even species that do not flower so often are magnificent if grown in the full sun and in good soil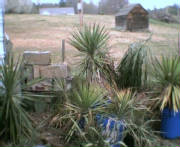 We have the largest yuccas for sale on the internet.

$75 for stout 5ft. trunk.
24"yucca - $29.95
Almost fully grown
$49.95
$3 adams needle seedlings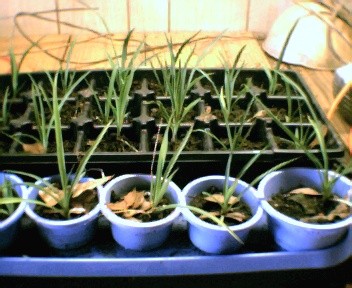 Always add little water to new planted yucca. Beds must be raised. sand, small gravel or granite chips, such as chicken grit, will keep dry the root neck and bottom of the stem. Sand should contain some clay or peat for clumping. Rhizome is underground and very near to surface where one can't compress them.

Yearling yucca adams needle $9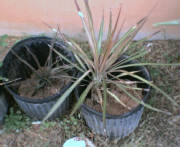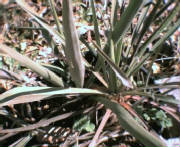 Yucca - Beargrass $6
The yucca plant is an evergreen shrub that does not shed its leaves each year and abundantly grow in southeastern United States. It grows in dry, sandy or rocky habitats and in fields, road shoulders, open woods and nursery beds. Leaves of the yucca are usually pointed, stiff, and narrow, with saw like or fibrous edges. The leaves are basal; that is, they all originate from one point, taking the form of a rosette. Leaves terminate in sharp spines. Stem is present in the form underground rhizome

Yucca plants have bell-shaped, white, cream-color, or whitish-green flowers. These flowers grow on inflorescence, which springs up from the center of a leaf-cluster. There are several flowers presents on an inflorescence
Testimonials
hey randall, my yucca and cactus are growing like crazy!
well the big yucca is slowly catching up and starting new growth but
the
small one just took off and started sprouting within a few weeks. its
doubled in size or more like tripled.
1 cactus stayed in tact and has 4 new big segments and starting a few
more.
the other cactus broke in 3 or 4 peices and i planted them seperatley,
now
they all have new sprouts. 1 has 3 new sprouts. ill have pics soon as
i finish landscaping around them.


Hey randall, no green thumb here, all i did was stuck them in the
ground and
gave them water. a lady at a nursery told me to water newly planted
yucca
every other day for 2 weeks and thats all they need. the small yucca is
the
only one that took off immediately. i was beginning to wonder about the
rest
then they all came to life within the past month and started growing
good.